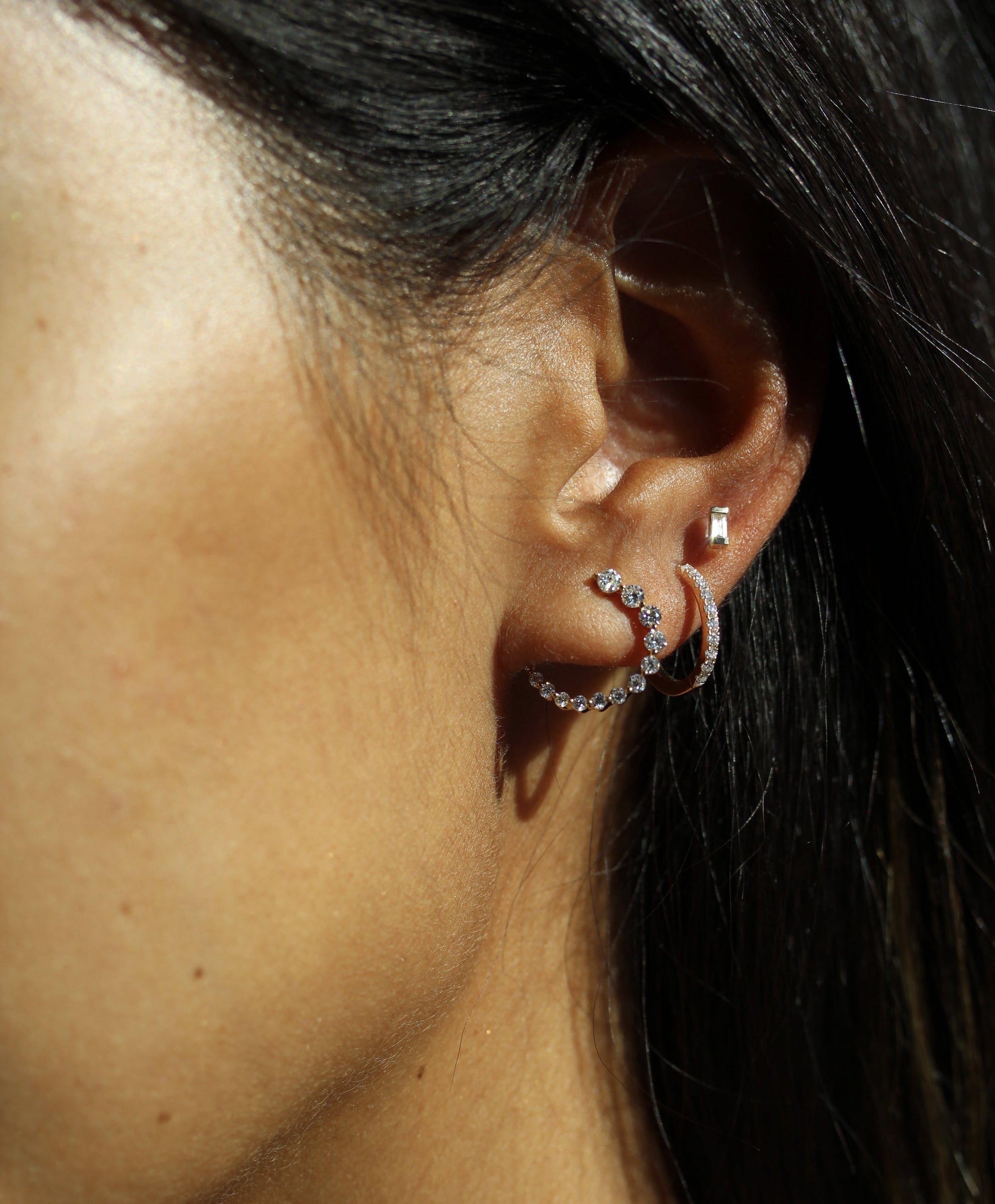 Did you know that Taylor Custom Rings also makes diamond earrings? We've designed statement-making lab-created diamond earrings with enticing options for everyday wear and special occasions alike. Invest in a pair of earrings to last a lifetime–made with responsibly-sourced mine-free diamonds.
Choose Your Recycled Metals
As part of our mission to be a sustainable and ethically sourced jewelry business, we use metals that are recycled; this means that they don't require new mining, making them a more sustainable choice. Each pair of earrings is customizable. Choose from 14k rose gold, yellow gold, white gold, or platinum. The lab-created diamond earrings of your dreams await you!
Ideal For Any Occasion
At Taylor Custom Rings, we like to create jewelry that is versatile. Our earrings can be worn as a low-profile, everyday choice or an elegant statement piece for special occasions. Choose between lab-grown diamond stud earrings, a flirty floral shape, or minimalistic mini baguettes—we've got all our clients' unique styles in mind.
For a more nuanced, delicate look, choose the Felicity earrings, the Cate earrings, or the Poppy earrings. They feature unique shapes and clusters with thoughtful, sometimes floral details to create the most stunning earrings. For a simple, timeless look, choose our classic lab-grown diamond stud earrings or our diamond huggies. They instantly elevate any look!
Visit Us In Person or Virtually
If you're ready to try on some of our stunning lab-created diamond earrings, stop by our showroom to meet our jewelry experts, explore different styles, and maybe even walk away with your new favorite accessory! If an in-person visit isn't feasible, book a consultation with one of our experts to get your questions answered. We'll help you choose the perfect earrings for you or your loved one.