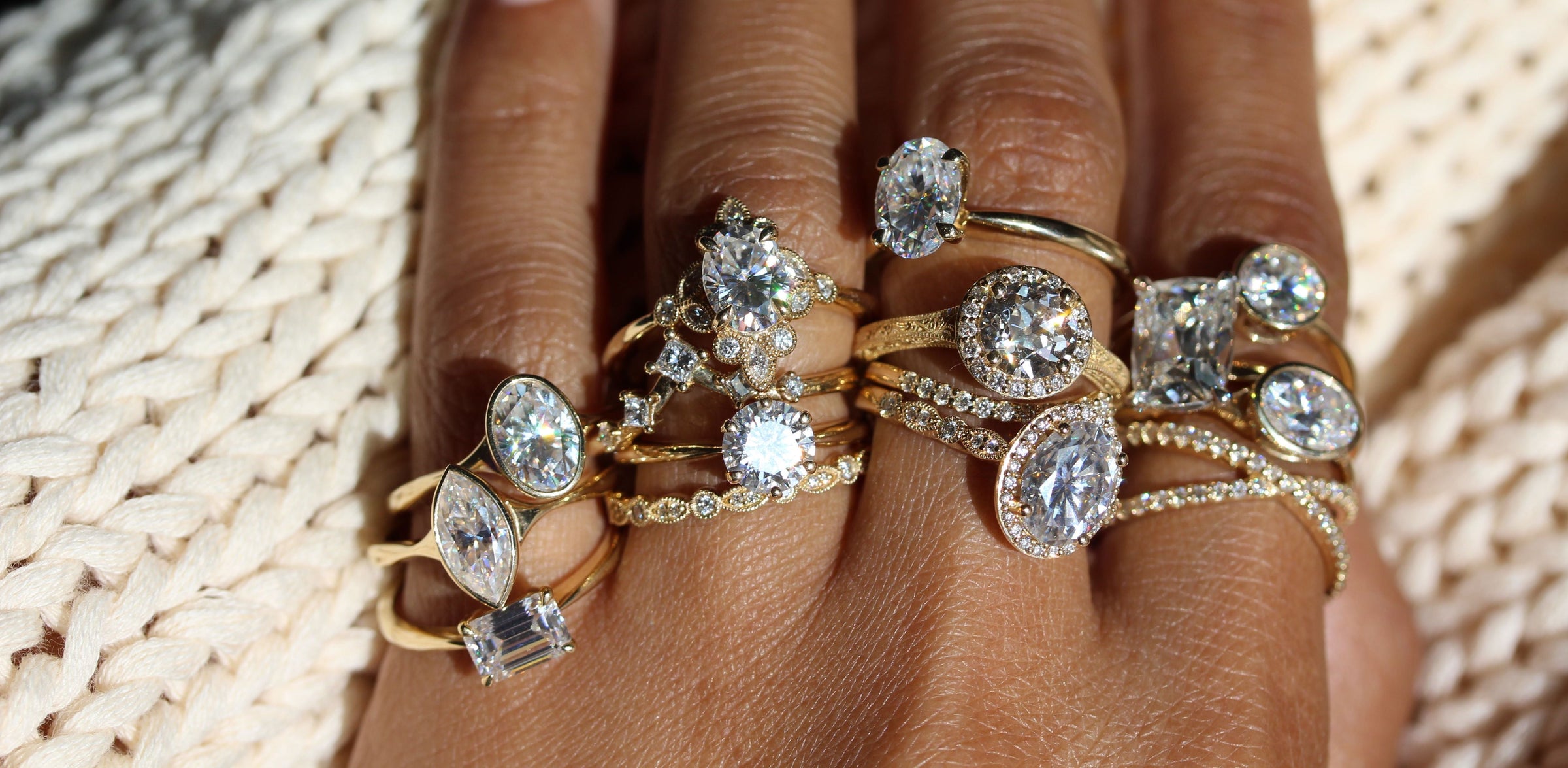 Ethical & Lab-Grown Diamond Engagement Rings
The moment you decide to marry the love of your life is priceless. Every couple reaches that moment in their own way, with their own surprises, challenges, and beautiful memories. Crafted with incredible attention to detail and design, our mine-free engagement rings can help you tell the unique story of how you got here, where you are now, and—most of all—the chapters yet to come.
Inspired Design + Meticulous Craft
Our designs are inspired by art, nature, architecture, and history. Each design is honed to perfection before it is ever cast into gold. We love combining vintage and modern elements to create designs that take inspiration from the past while imbuing a decidedly contemporary feel. Collaborating with our customers has allowed us to create personal designs that reflect multiple lived experiences.
We select only the highest-quality lab-grown diamonds, moissanite, or created gemstones for our designs. We choose diamonds and gems with superior cut, clarity, and color for maximum sparkle.
No Mining Needed
We founded Taylor Custom Rings with the desire to help our clients celebrate their love in a way they can be proud of. Wondering what makes our lab-grown diamond engagement rings so great? Mine-free diamonds have the exact same chemical composition as mined diamonds, without the negative environmental and humanitarian impact of mining. They are also significantly less expensive, which means you can get more sparkle for your budget! An engagement ring will tell your story for generations to come. At Taylor Custom Rings, you'll find breathtaking engagement rings that are thoughtfully and beautifully created from the beginning.
A Modern Heirloom
By choosing a lab-grown diamond engagement ring for yourself or your partner, you're taking a step towards making this planet a better place for future generations. As a symbol of your eternal love, an ethical engagement ring can be passed down to the next generation with confidence and hope for the future.
Browse our collection today to find the engagement ring of your dreams, or reach out to start your own custom design!