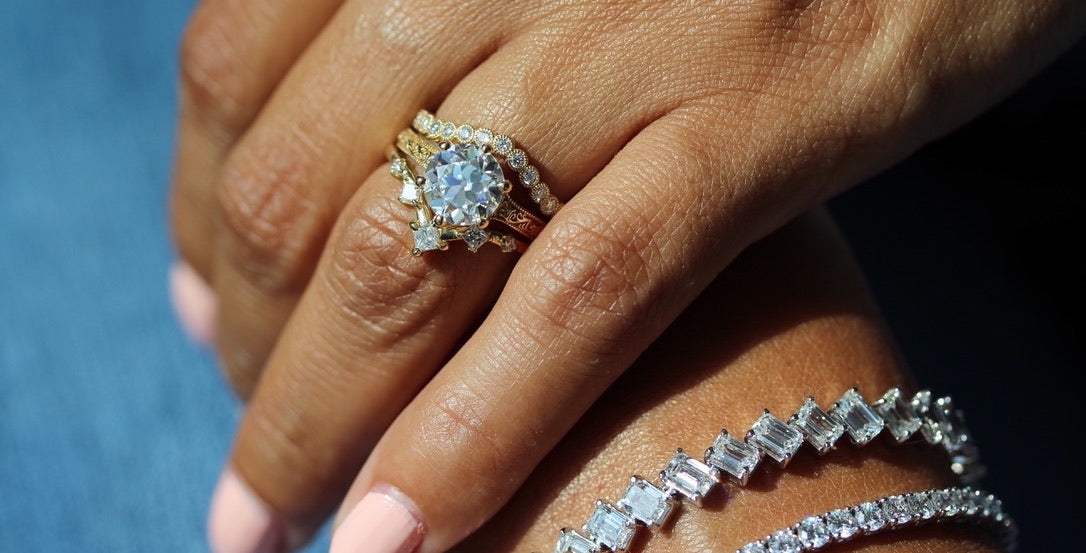 Complete your engagement ring with a mine-free lab-grown diamond wedding band that has been thoughtfully designed and crafted by Taylor Custom Rings. Shop our featured styles, or contact us if you're looking for a custom wedding band that perfectly fits your ring and represents your unique story.
Bespoke Wedding Bands
Our lab-grown diamond wedding bands are made to order in your specified finger size and choice of metal. If you'd like to further customize your wedding band, our expert designers would love to bring your vision to life! If you have an idea for a wedding band to perfectly complement your ring, reach out! We also design one-of-a-kind custom wedding bands to perfectly fit your engagement ring.
Authentic + Ethical Jewelry
Our wedding bands are created with recycled gold or platinum and real lab-grown diamonds for ethical jewelry that requires no new mining. Whether you choose one of our designs or work with us to create a bespoke piece to add to your stack, we make it easy to choose conflict-free jewelry that feels amazing to wear.
Work With a Designer
Our lab-grown diamond wedding bands include both straight and contour bands to fit many engagement ring styles and help you build your perfect stack! If you can't find what you're looking for or are worried that your rings won't stack the way you want, reach out to one of our designers to start the custom process! We can help you create a custom wedding band that perfectly complements your ring!