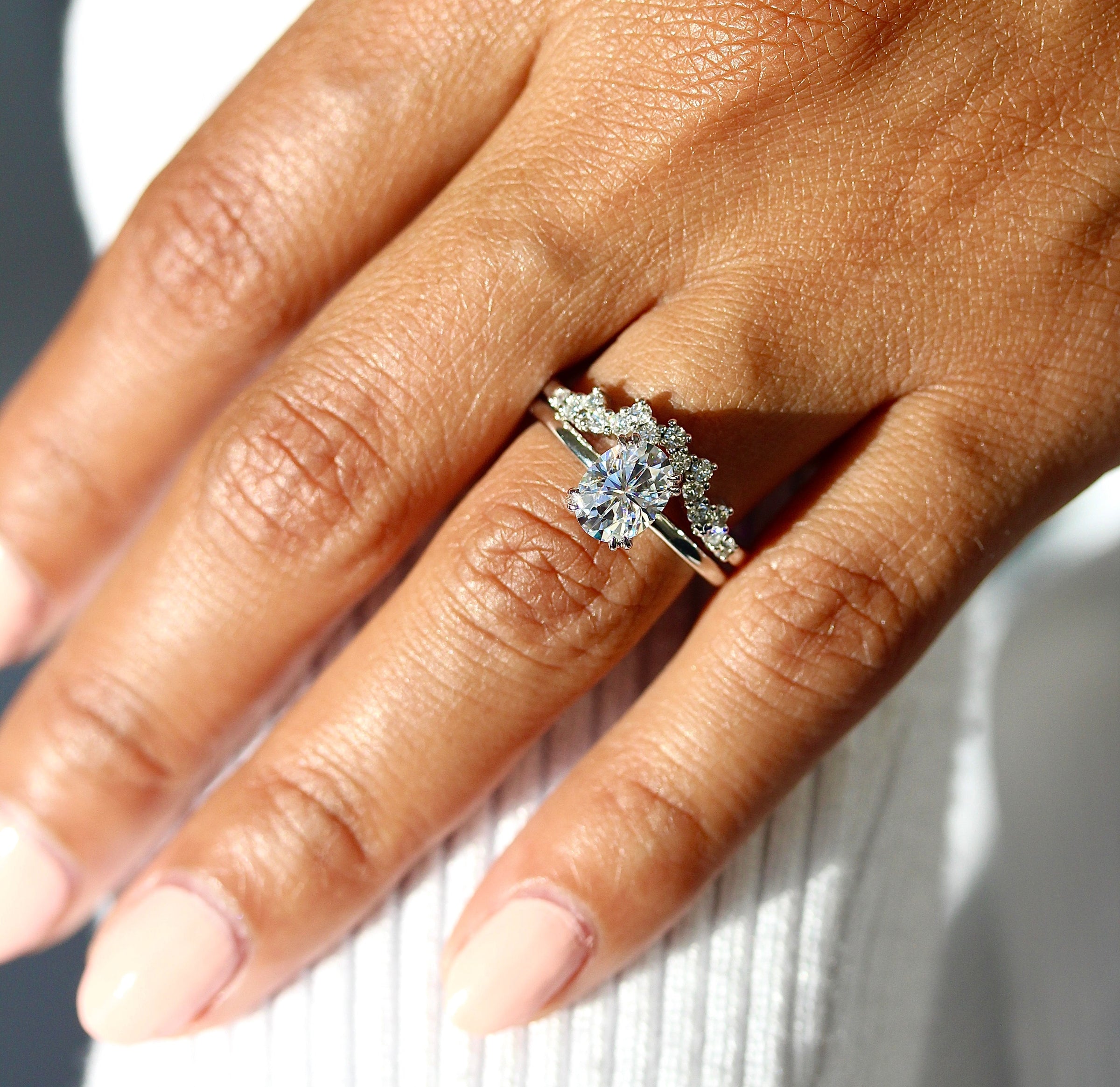 Oval Cut Engagement Rings
Oval Lab Diamond Engagement Rings
The oval engagement ring embodies a clean, modern style that is hard to resist. Its beauty lies in the elongated simplicity of its shape–rounded and elegant. An oval diamond is a take on the most well-known diamond shape, the round cut. It takes the classic silhouette and gives it a modern twist–or rather a stretch–that creates a new look that covers even more of the finger.
Elegant Simplicity
Bold yet minimal, our oval lab diamond engagement ring is the Audrey Hepburn of ring shapes. This shape wasn't created until 1957, when a diamond cutter named Lazare Kaplan invented it. This new style was then catapulted into the 1960s, conjuring the ethos of the minimalist art movement of the time. Our oval-cut moissanite engagement rings are classic and chic and often resonate with those who prefer a simple yet sophisticated ring.
Because of their size and cut, an oval lab diamond engagement ring can appear bigger than a ring featuring another diamond shape. The oval's elongated silhouette creates this effect. A round-cut diamond and an oval-cut diamond may have the exact same carat weight, but because of the elongated shape of the oval diamond, it may have more surface area and therefore appear to have a higher carat weight.
Find the Perfect Oval Style
The oval lab diamond engagement ring is a versatile shape–it can be oriented east-west or north-south, depending on your preference. It wears nicely as a solitaire, but it can also be complemented by a halo, side diamonds, or pavé band. Some of our most popular oval engagement rings are the Stevie, the Esme, and the Serena.
To begin your selection today, browse our collection below! At Taylor Custom Rings, our goal is to help you create your ideal ring or stack, so don't hesitate to book a consultation or reach out with questions by phone or email.